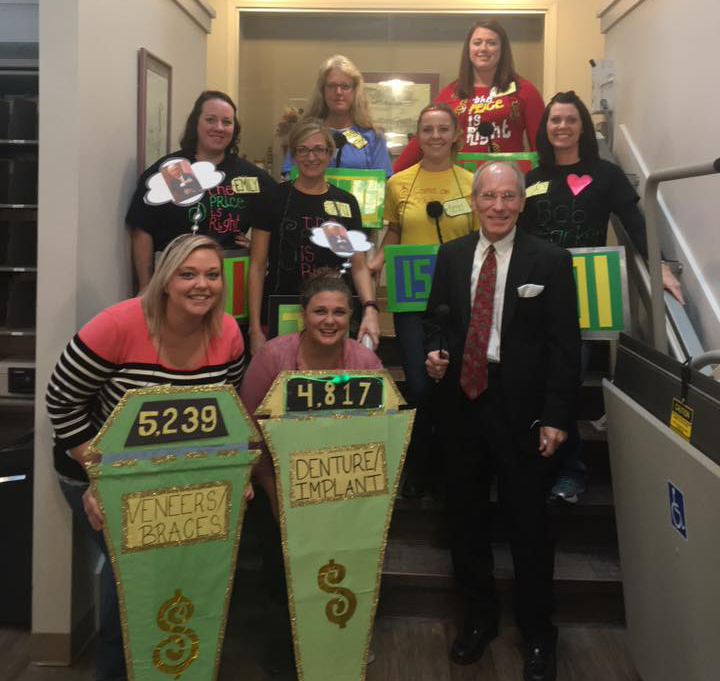 Our caring team at Ortman Family Dentistry is devoted to ensuring that you can enjoy a healthy, beautiful smile throughout your entire life. We offer a wide range of dental services, and strive to provide quality, professional care in a calming, relaxed atmosphere. Please call us today at 765-447-0322 to learn more about our comprehensive dental care in Lafayette, Indiana, and to schedule your appointment with our experienced dentists.
---
Our Office Staff
---
Paige Kendall
Office Manager/Expanded Functions Dental Assistant
I started working for Dr. Ortman in 2011 as a front desk receptionist. I graduated from Ivy Tech's dental assisting program in 2010, and received my expanded function certificate in 2012. I take care of tasks like: registering new patients according to established office protocols, organizing referrals to other medical specialists, and maintaining and managing patient records in compliance with privacy and security regulations. Working as a dental assistant, I get to see the smiles the doctors create and help them in creating the perfect smile for the patient. I also coordinate patient appointments, accounts and insurance, and help the doctors in patient care, assisting with procedures and treatment plans, and answering any questions a patient might have.
My husband, Nick, and I have been married since 2012. We have two very active girls, Jade and Alyza. In my spare time, I enjoy spending time with my family, friends, and rooting for my favorite sports teams. Go Bears, Cubs, and Boilermakers! We all enjoy tailgating at Purdue in the fall. We are a very close and active family balancing the girls' sports and school activities. I also enjoy painting, amusement parks, and crafting.
---
Marlis
Receptionist
I have been a part of the team here for six months, and it has been a joy to get to know our patients. I enjoy greeting every patient, making them feel comfortable and welcoming them as part of the Ortman Family Dentistry family.
Outside of the office, I enjoy traveling, gardening and spending time with my wonderful family. My husband and I have two children and one grandchild.
---
Our Hygienists
---
Joni
Licensed Dental Hygienist
I have been a licensed dental hygienist since 2007 and began working for Dr. Greg Ortman in 2010. I strive to provide the best dental care for our patients while educating them on the importance of good oral health.
My husband and I have two wonderful daughters, and we love spending time together. We love going on walks and playing at the park.
---
Stacy
Licensed Dental Hygienist
I have been a licensed dental hygienist since 2000 and have been working for Dr. Greg Ortman since 2004. I enjoy educating our patients on the importance of oral hygiene and how to maintain it. Before becoming a hygienist, I worked as a dental assistant, assisting the doctors with procedures. The best part of my job is seeing patients walk out of the office with a smile.
I enjoy being outdoors and spending time with my husband, two children, and our dog. We enjoy being together as much as possible.
---
Ashley
Licensed Dental Hygienist
A 2015 graduate of the IU School of Dentistry in Indianapolis, I began working for the practice right out of school and have been here ever since. I love my job! I especially like making sure patients have a great experience and enjoy coming to the dentist.
I am originally from Rensselaer and now live in West Lafayette with my husband, Ben. I enjoy being involved at my church, spending time with my husband and family, crafting, and doing outdoor activities.
---
McKaylin
Licensed Dental Hygienist
I have been happy to work at Ortman Family Dentistry ever since December of 2020, when I first joined the team. Before that, I graduated in 2019 with a Bachelor of Science in dental hygiene. I love being a part of the team here. Everyone is the best and we are all so quick to help and go above and beyond to make each other's jobs easier.
When I'm not in the office, I love to travel or spend time with my family. I was married in May of 2021, and I am close with all members of my family, including my parents, younger brother and in-laws.
---
Stephanie
Licensed Dental Hygienist
I joined the Ortman Family Dentistry team in 2016 and have practiced as a dental hygienist for over 10 years, from Indianapolis to Australia! I am excited to set some roots down in Lafayette and have really enjoyed getting to know the Greater Lafayette community.
One of my favorite aspects of dentistry is empowering patients to improve and maintain their oral health, and I believe this is achieved as a team through open communication and feeling comfortable both at home and in the dental office.
Besides dentistry, I am a certified yoga teacher and feel that mindfulness and ease are also useful as a dental hygienist. In my free time, I enjoy gardening, spending time with my family and two pups, and being out in nature.
---
Our Assistants
---
Hallie
Expanded Functions Dental Assistant
I joined the team here in July 2021 and have enjoyed helping our patients and getting to know them on a more personal level. I assist our dentists and help make appointments go smoother by taking on a variety of tasks, such as placing fillings and temporary crowns, performing lab work and sterilizing equipment and treatment areas. You may even find me at the front desk, helping with checking in or out and taking phone calls.
When I'm not in the office, I enjoy going on walks or playing fetch with my adorable lab puppy, Rocky.
---
Tracey
Expanded Functions Dental Assistant
I love spending time with our patients, talking with them about oral health, and presenting the information they need to take care of their smile. I have been working with Dr. Ortman since 1998. I provide assistance to Dr. Greg Ortman and Christopher Holcomb as they care for our patients, sitting chairside making sure they are comfortable. I place fillings and temporary crowns, perform lab work, sterilize equipment and treatment areas, oversee our inventory, and order supplies, too. When needed, I also fill in at the front desk.
As for my personal life, I have two daughters and seven wonderful grandchildren. My husband and I love Tennessee, and I'm very passionate about animals.
---
Jessie
Expanded Functions Dental Assistant
Jessie has worked at Ortman Family Dentistry since February 2023. She graduated from Ivy Tech Kokomo in 2020 with certification and licenses in caries prevention, expanded functions, coronal polishing and radiography. She passed her general chairside exam in 2021 to become a certified dental assistant. Jessie loves making people feel as comfortable and welcome as possible, helping them improve their oral health and making them more confident in their smile. She is understanding and will help educate patients on procedures to the best of her abilities.
Jessie has been married to her husband, James, for nine years and she has two boys aged 13 and 7. Outside of work, she enjoys going to concerts, antique shopping and spending time with friends and family. She is also a self-described crazy plant lady.
---